For additional information, you can contact the Property Manager, Erika Galeas at [email protected] or call 816-381-6188.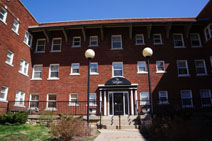 Located at 1748 Washington Street, the Nottingham Apartment Building has studio and one-bedroom units. There is off-street parking and on-site laundry facilities available to residents.
Water, Sewer, and Trash services are all included in rent.
Small Studio + 1 Bath
from $445/month
Large Studio + 1 Bath
from $470/month
Small 1 Bed + 1 Bath
from $510/month
Large 1 Bed + 1 Bath
$545/month