For additional information, you can contact the Property Manager, Erika Galeas at egaleas@westsidehousing.org or call 816-421-8048.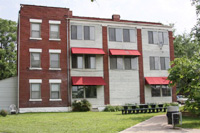 $540-$730 per Month
2 Bed / 1 Bath
Near Community Center and Library
Includes Water, Sewer, and Trash
INCOME-RESTRICTED
Located at 2034 Summit Street, these units are right next to a community center and library. Pocket park is located across the street.