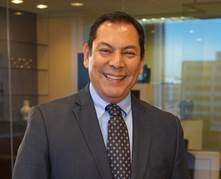 A native of Kansas City, MO, Miguel launched his career in Human Resources and Recruitment in the early 90's, as an, Account Executive, and ending as Director, Business Development and Recruitment for a small Hispanic owned minority firm formerly known as Able Employment a division of Riojas Enterprises, Inc. located in Kansas City, KS. He was instrumental in developing the business to attain such prestigious awards as: State of Kansas Minority Firm of the Year, "Top 500 US Fastest Growing Hispanic Businesses, years 1999-2005, by Hispanic Business Magazine.
With an entrepreneurial spirit Miguel quickly began to set his career path parallel to the growth of the corporation and his community. In addition, to his daily responsibilities Miguel surrendered his volunteer time serving on the following State Board of Director's:
Missouri Employment and Training Council and the Missouri Hispanic Business Culture and Trade Commission which were gubernatorial appointments and three city board's: Truman Medical Centers, Kansas City Convention and Visitor's Association and the Economic Development Corporation of Greater Kansas City.
In the Fall of 2005, Miguel was unanimously elected by the board of director's of the Hispanic Chamber of Commerce of Greater Kansas City to serve as the President/CEO of the non-profit organization. Known for his determination, charismatic personality, and influential leadership, Miguel has earned the respect not only of his local community but also from his customers and peers nationwide for his ability to craft new ideas and turn them into profitable results.
His Human Resource experience took him to Dallas, TX where he lived for nearly 4- years working for the Dallas Fort Worth International Airport as Staffing Manager. While living in Dallas, TX he supported local non-profit groups in the development of other aspiring young professionals.
Upon his return to the Kansas City area, summer 2011, Miguel accepted an opportunity to work in the healthcare industry where he is today as, Director Human Resource Operations for Truman Medical Centers. His enthusiasm continues to precede him as he has been asked to serve on various committees such as; Incident Management Team, Corporate Safety & Quality Oversight Committee as an Administrator on Call and the Corporate Challenge committees.
Currently Miguel serves on two local boards, Westside Housing Organization and the Citizens of the World Kansas City charter school which recently opened Fall 2016 in the urban core of the city.